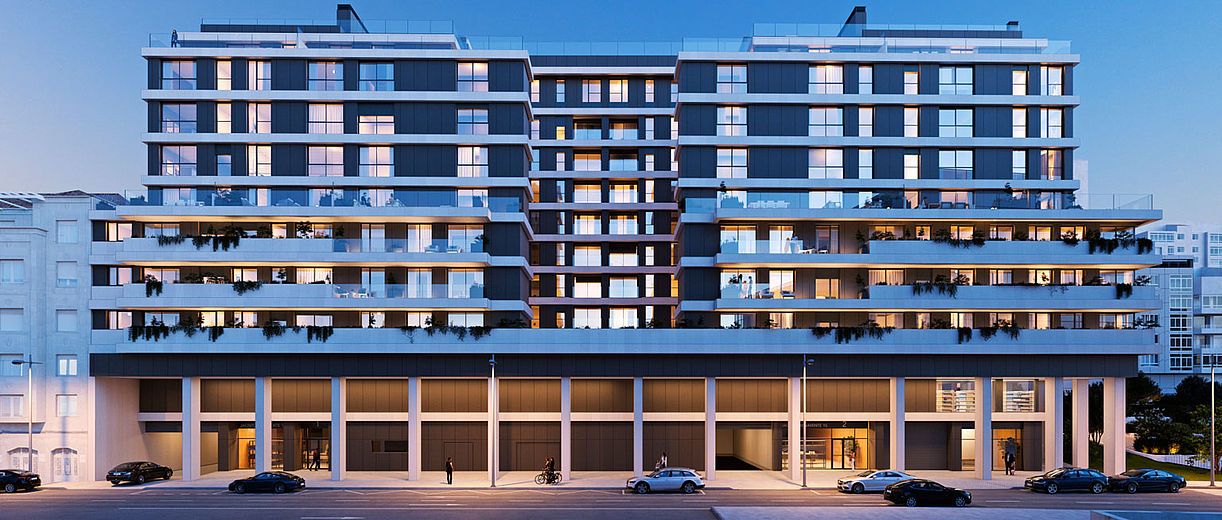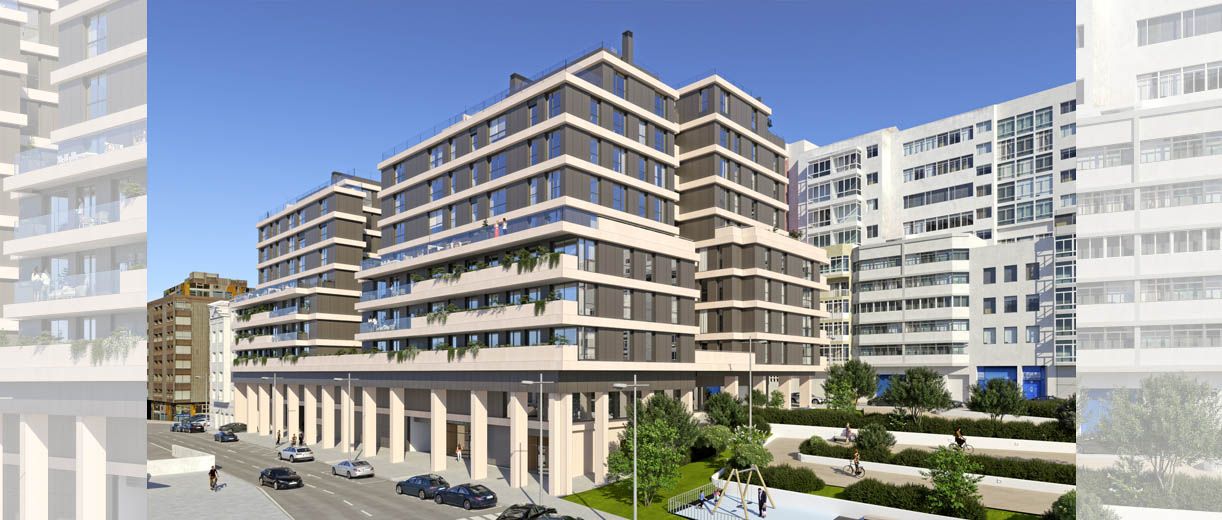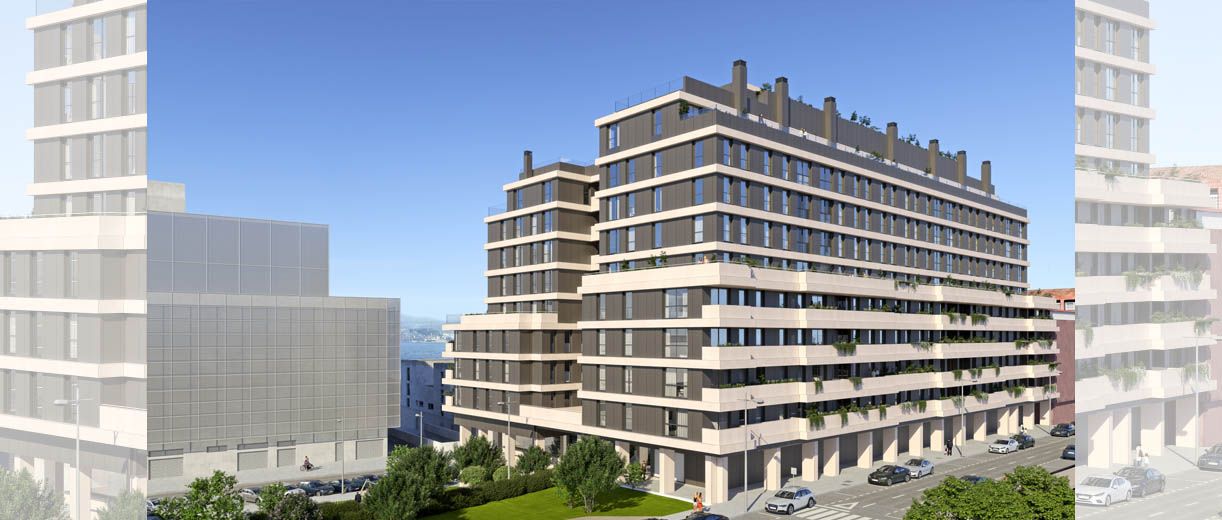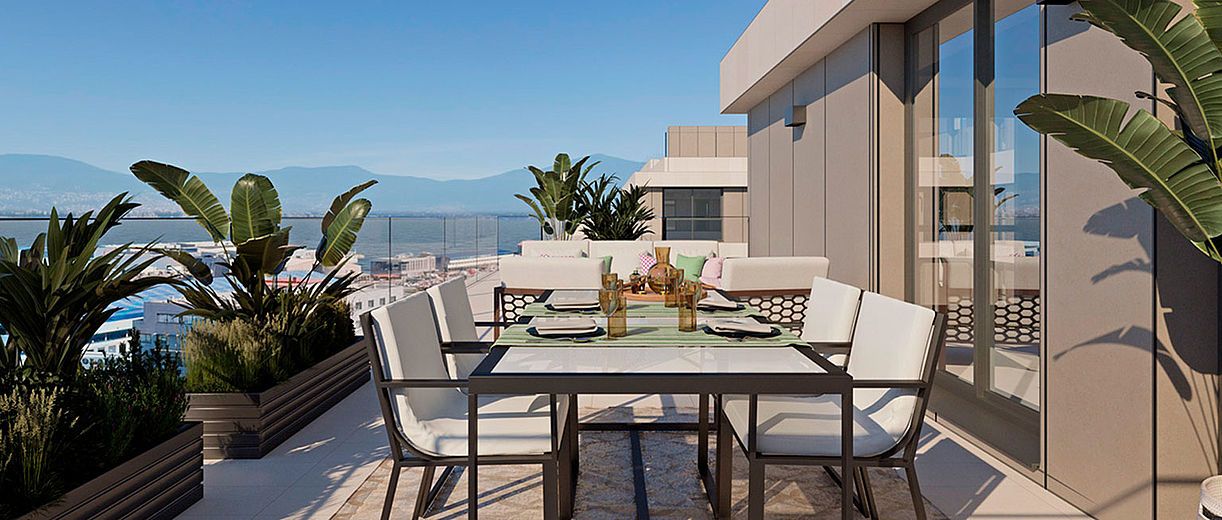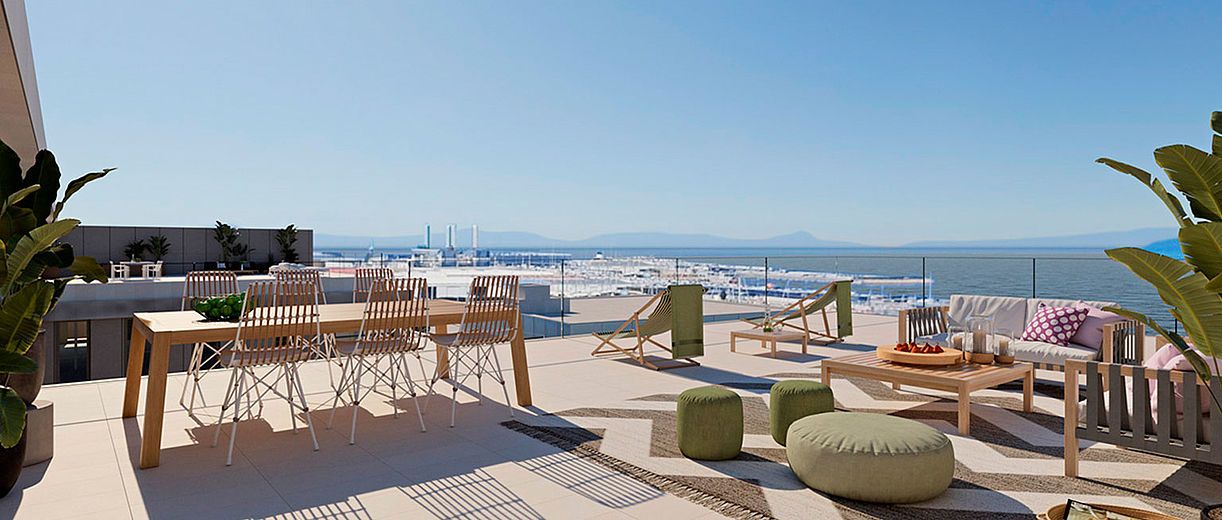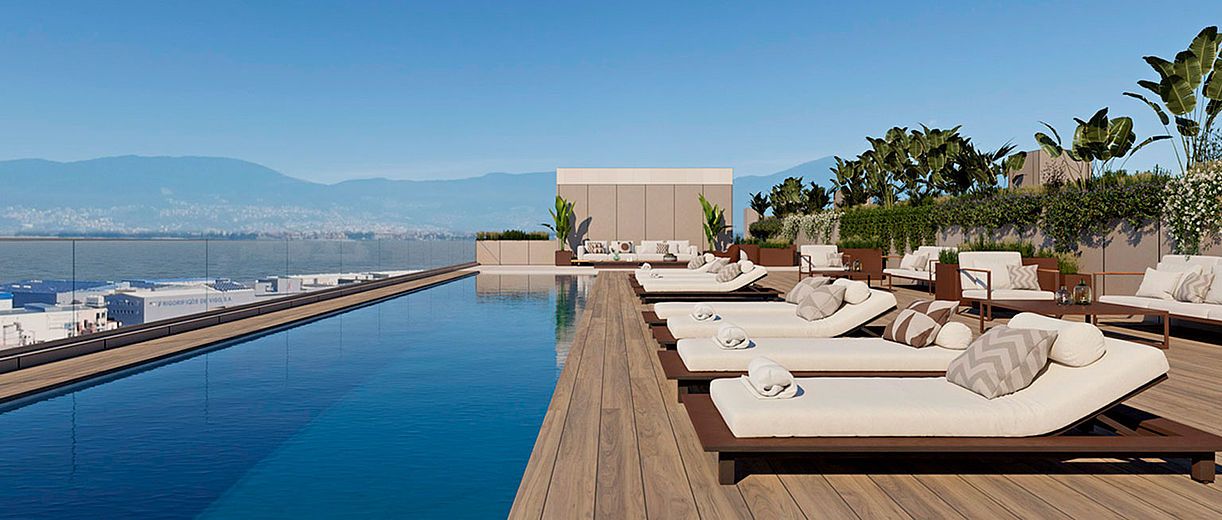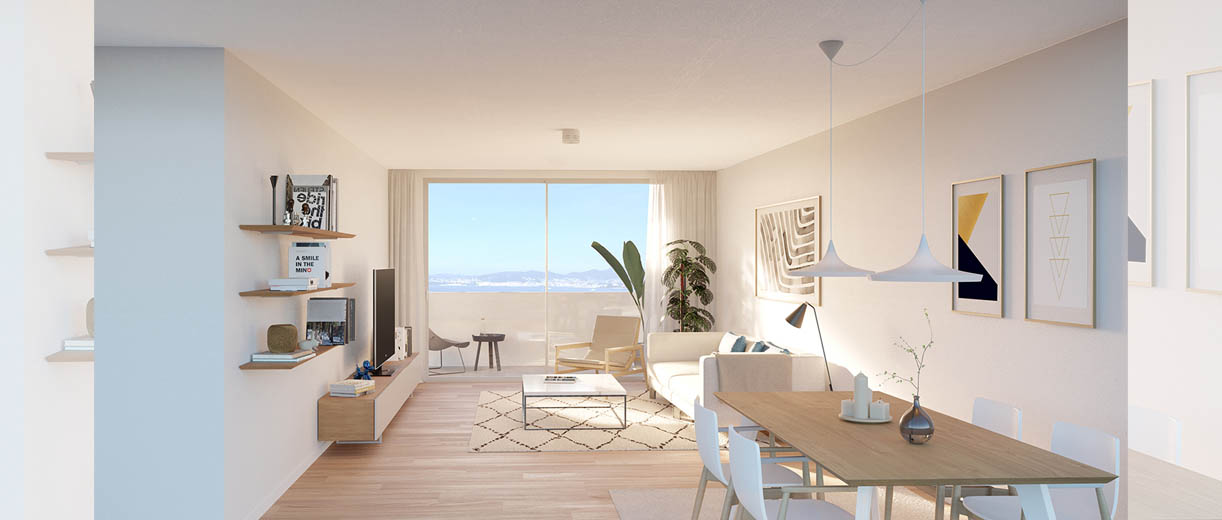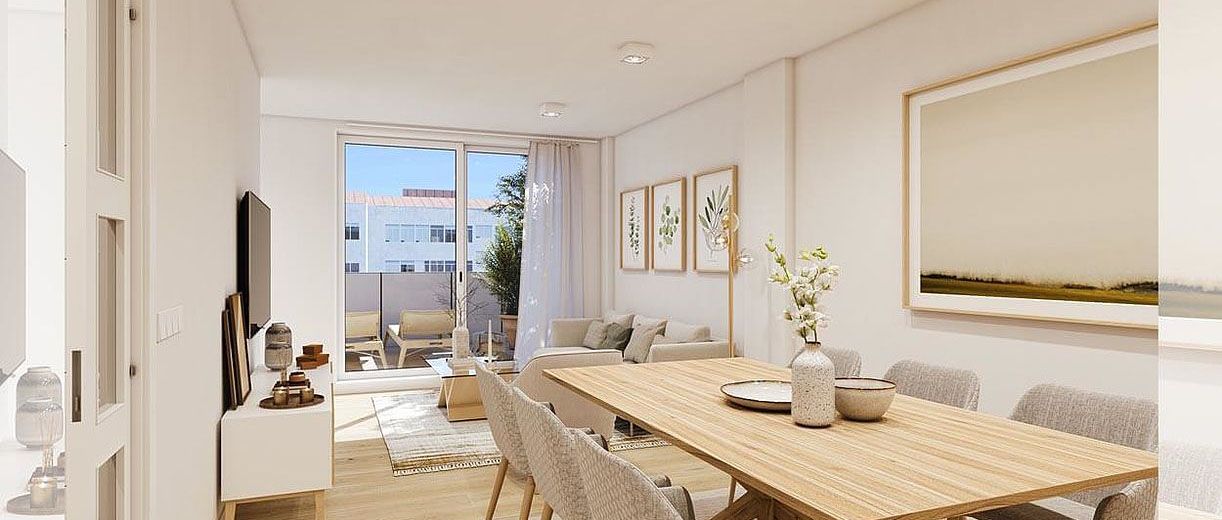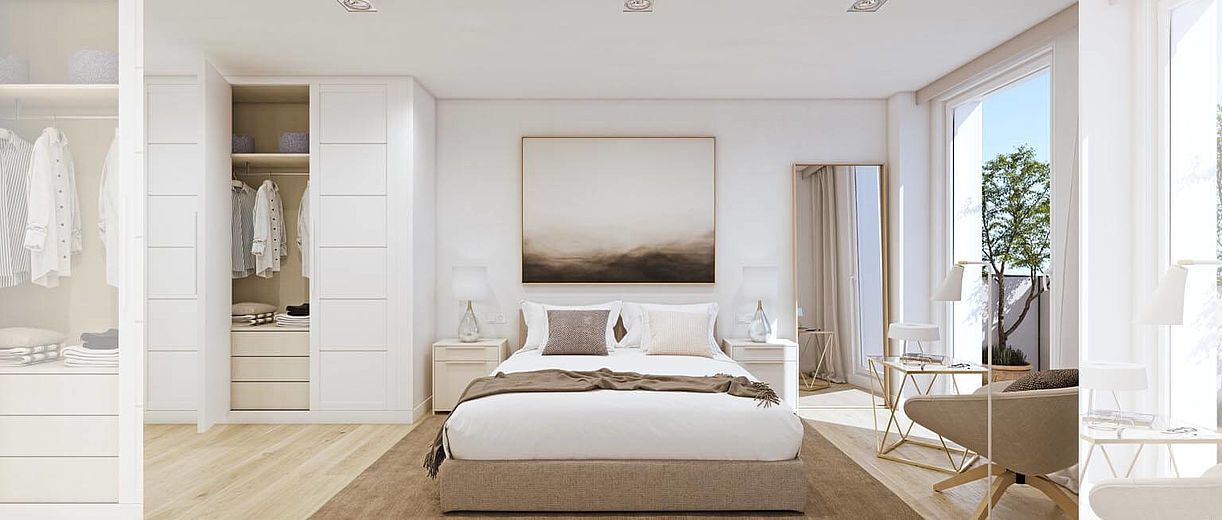 Jacinto Benavente 15
Jacinto Benavente 15 is a Housing Development with views to the city of Vigo, an ambitious project of Avantespacia with 155 collective dwellings residences, in an upcoming area, with the sea as a backdrop.
This is a clear commitment to forward-thinking living. It is a complex integrated into a contemporary modern building with a swimming pool, sunbathing area and blissful terraces from which you can enjoy an uninterrupted view of the skyline.
Located on the streets of Jacinto Benavente and Marqués de Valterra, the project comprises a new area facing the sea with an attractive offer of 1-to-4 bedroom apartments, with a supermarket on the ground floor and a green area with a children's playground.
This is a great choice for living in a new residential location that perfectly combines life quality and amenities, a stone's throw from the city center, with comfortable travel links to beaches and services.
Jacinto Benavente 15 is the perfect opportunity to start a new life in an upcoming area of Vigo.
Apartment types
| Type | Bedrooms | M2 built | Garage | Storage room | Terraces | Price | Plan |
| --- | --- | --- | --- | --- | --- | --- | --- |
| Floor | 1 | 68,27 | 1 | YES | | 195.000 € * | |
| Floor | 3 | 117,50 | 1 | YES | NO | 218.000 € * | |
| Floor | 2 | 125,67 | 1 | YES | NO | 290.000 € * | |
| Floor | 4 | 204,42 | 1 | YES | | 320.000 € * | |
Qualities


STAINLESS STEEL APPLIANCES


UNDERFLOOR HEATING IN EVERY ROOM




CAR CHARGING STATION PRE-INSTALLATION
A renovated, forward-looking seafront facade
Jacinto Benavente 15 is located on the calle street Jacinto Benavente, no. 15, adjacent to Marqués de Valterra, just behind the Instituto Politécnico Marítimo Pesquero del Atlántico and beside Vigo's Auditorio Mar.
This is a strategically located residential area undergoing renovation, only five minutes away from the city center and with excellent transport links. It is a prime site that is currently becoming a flagship residential destination in the 'olive city'.
The location of Jacinto Benavente 15 combines comforts, amenities and transport links. Moreover, it boasts a diverse number of services in the vicinity and large entertainment and restauration areas, such as the A Laxe Shopping Centre as well as  stunning natural points of interest like the beaches of Samil, Vao, Canido… or the beautiful Camilo José Cela park, a 7000 m2 green heaven.
Jacinto Benavente 15 is the definitive perfect (o definitive o perfect, pero no las dos) option for living or investing whilst enjoying unrivalled views, right in the city of Vigo.
Business hours
Monday to Friday 10.00 to 14.00 H and 16:30 to 20:30 H.
Saturday, Sundays, and holidays will be attended by appointment.
C/Conde de Torrecedeira, 29
36202 Vigo

Send us your details and we will inform
The infographics used in this online site are merely indicative and non-contractual images, and may be subject to modifications; the decoration, landscaping and furniture are not included in the goods subject to commercialization.