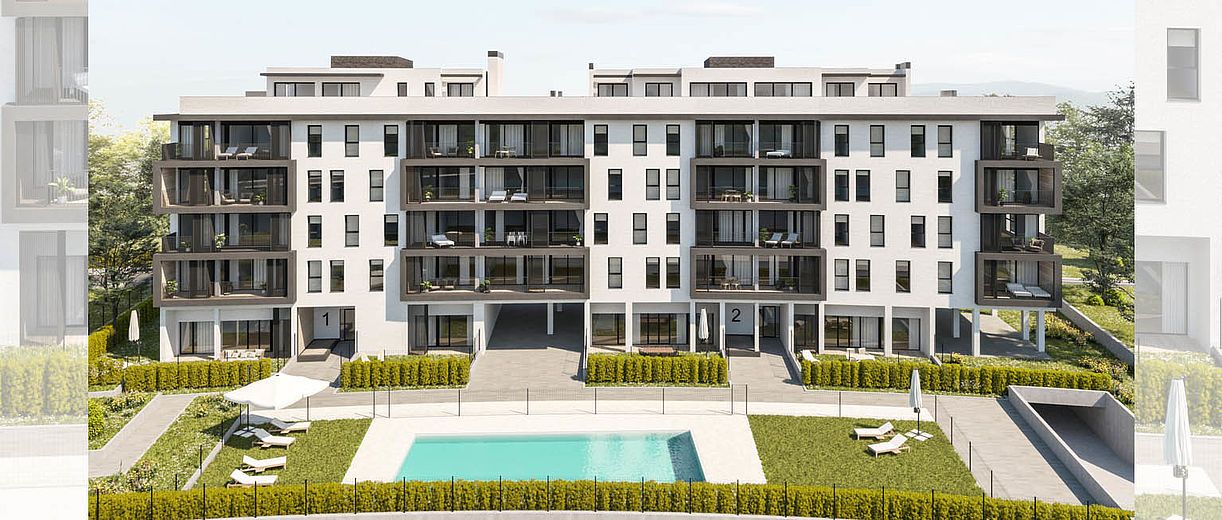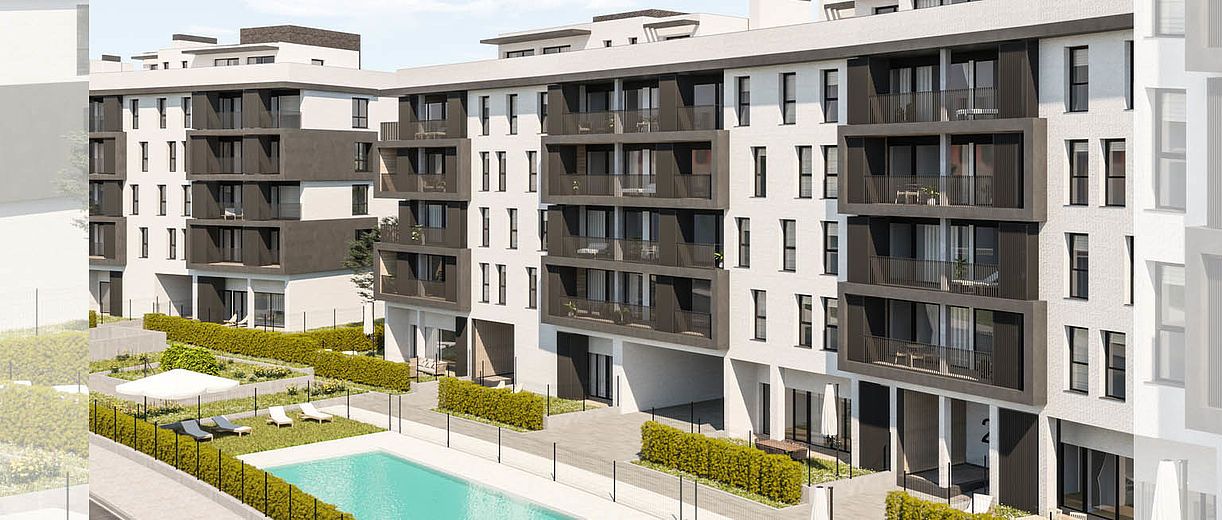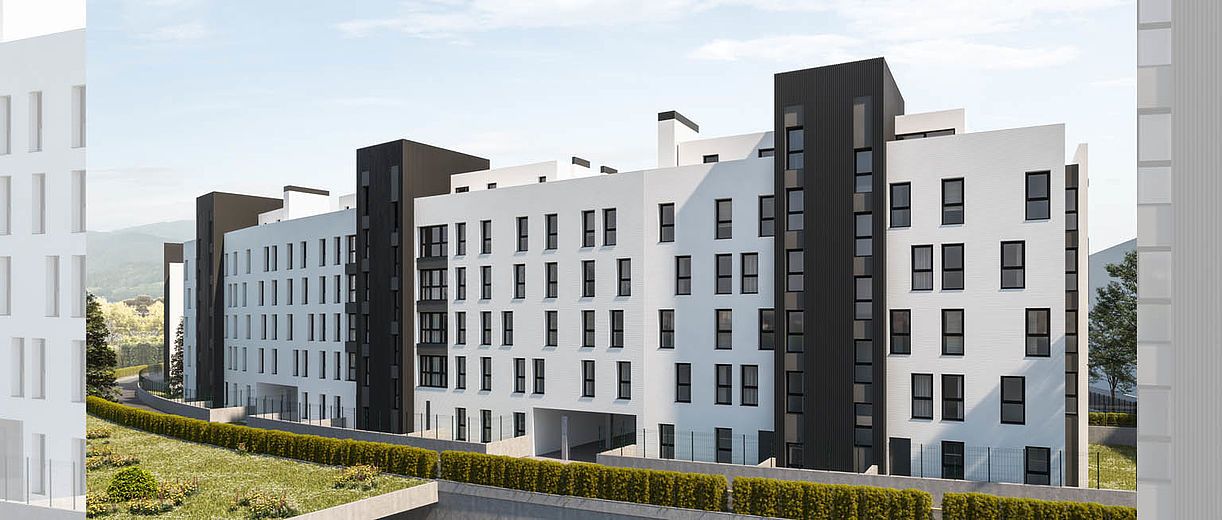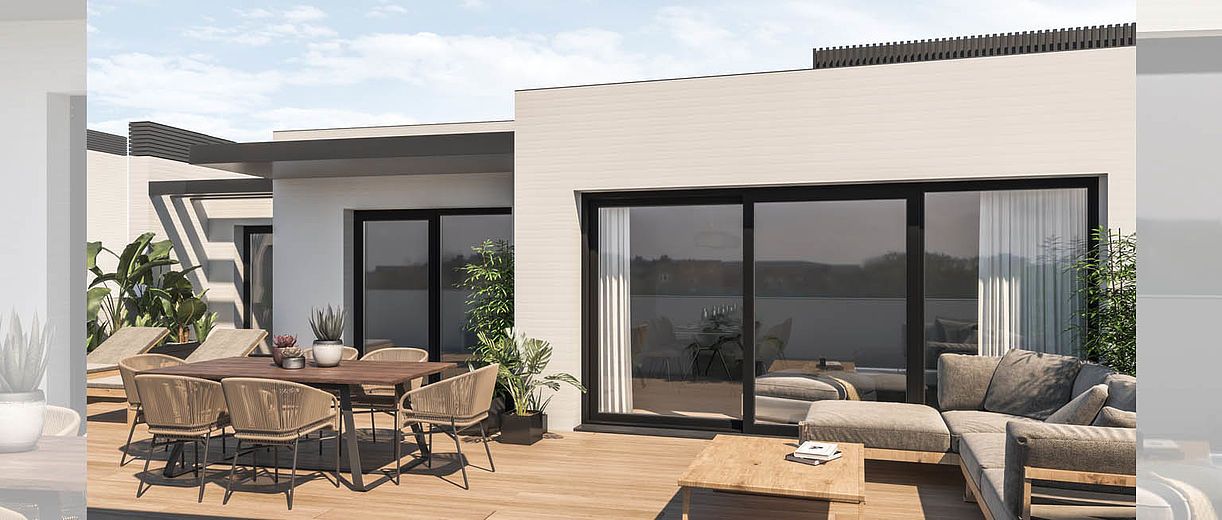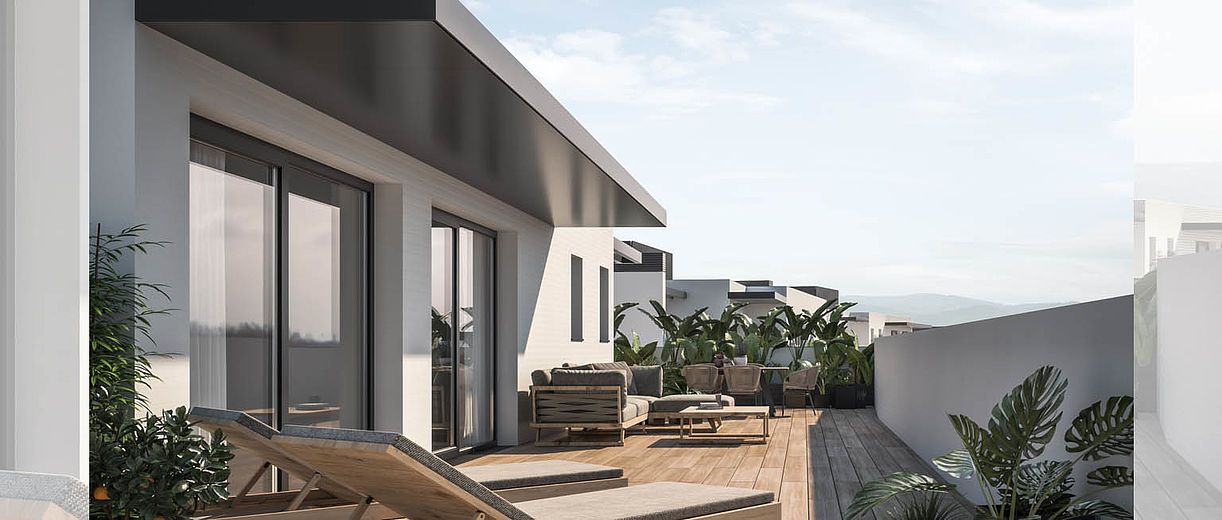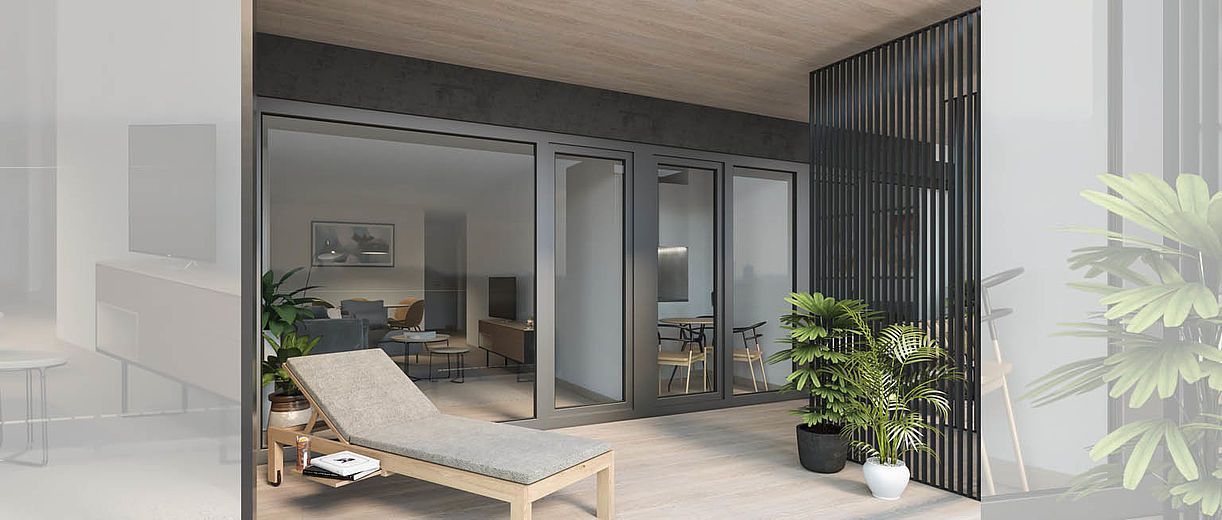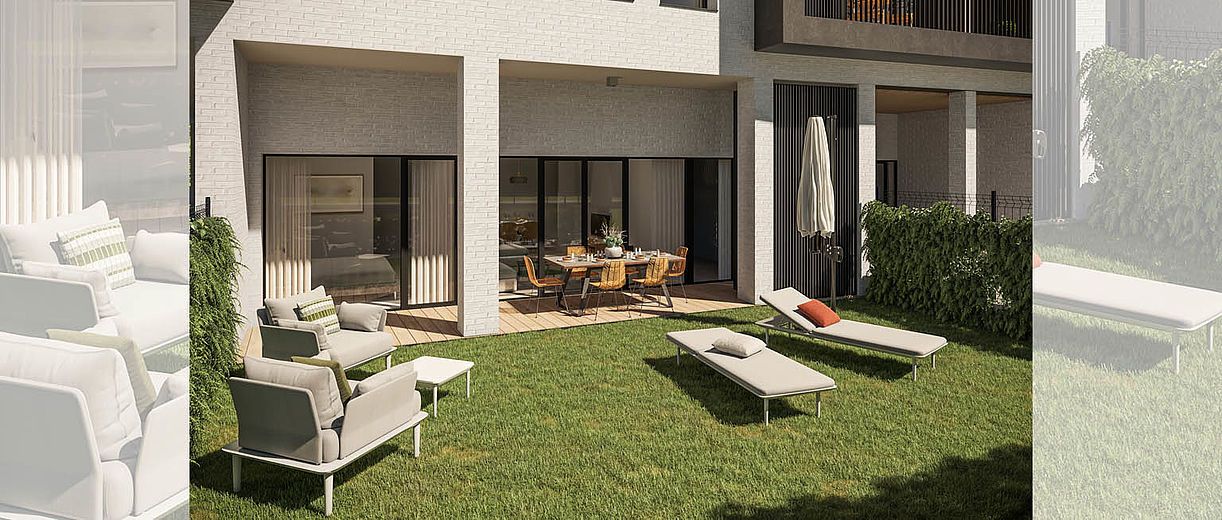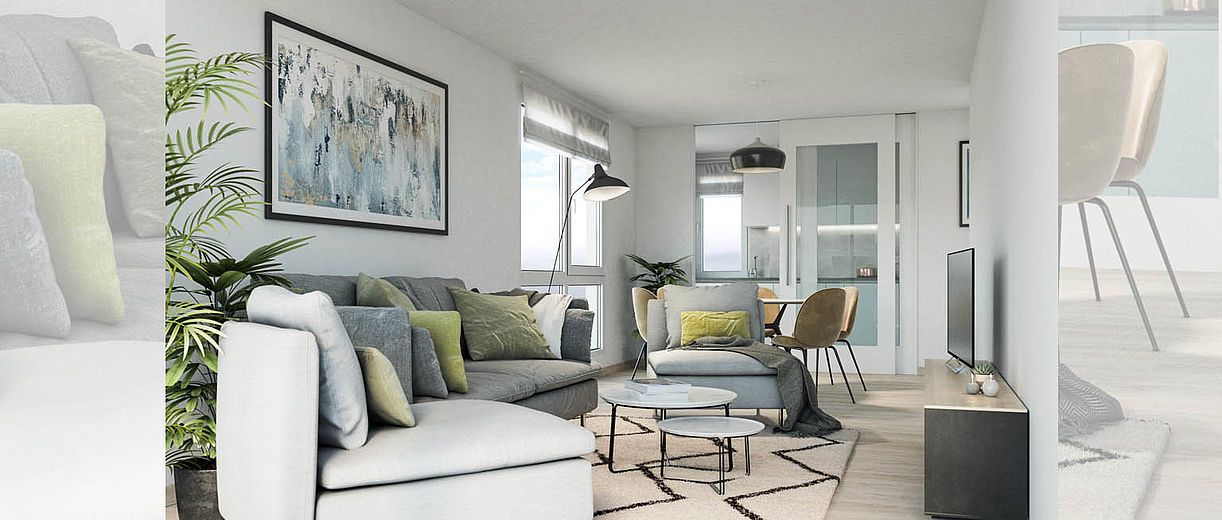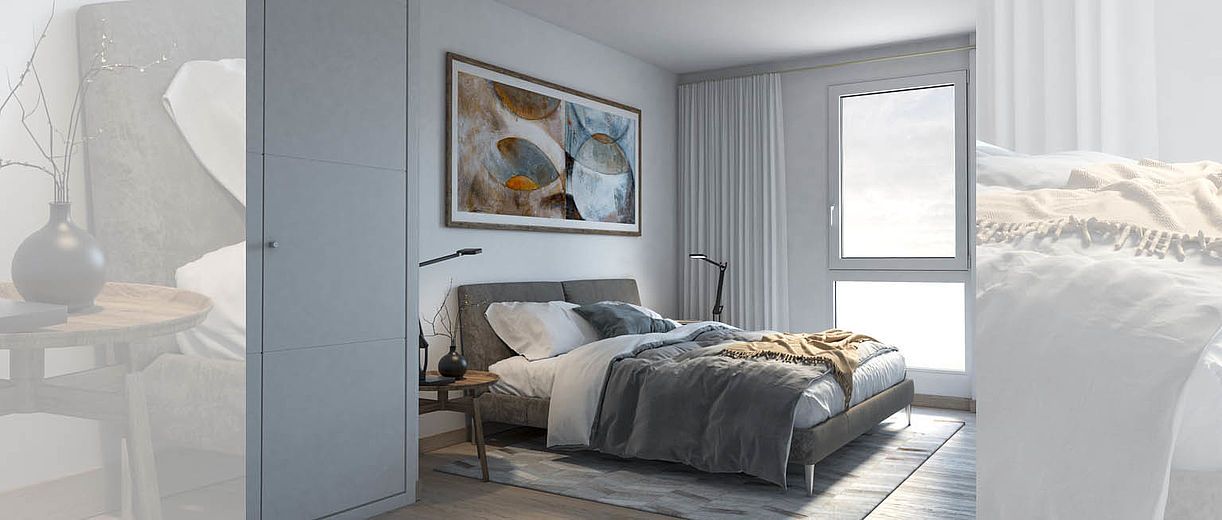 Prados de la Fuente
Prados de la Fuente is Avantespacia's debut appearance in Asturias, specifically in Oviedo, in the new Prados de la Fuente residential area, in a unique natural setting at the foot of Monte Naranco and a stone's throw from the Pista Finlandesa.
It is an exceptional offer of 2-4 bedroom apartments and penthouses with parking space and storage room, integrated into a modern gated community with green areas, a children's playpark and a swimming pool.
Prados de la Fuente is located in an exclusive setting that combines services and amenities for a different lifestyle, 15 minutes away from the city center with good travel and transport links.
This is the perfect option for those who wish to live life appreciating the fresh air, without giving up the utilities of the city.
Apartment types
| Type | Bedrooms | M2 built | Garage | Storage room | Terraces | Garden | Price | Plan |
| --- | --- | --- | --- | --- | --- | --- | --- | --- |
| Flat | 2 | 84,07 | 1 | YES | | | 150.000 € * | |
| Flat | 3 | 110,45 | 1 | YES | 1 | | 230.000 € * | |
| Flat | 3 | 116,96 | 1 | YES | 1 | | 237.000 € * | |
| Flat | 3 | 110,45 | 1 | YES | 1 | | 250.000 € * | |
| Flat | 4 | 146.18 | 1 | YES | 1 | Si | 389.000 € * | |
* Taxes and other expenses to be paid by the buyer: Value Added Tax (currently 10%), Patrimonial Transfers and Documented Legal Acts, in the Documented Legal Acts modality, at the rate that is legally applicable. Expenses for the formalisation of the public deed of sale before a Notary. Expenses for the registration of the public deed of sale in the Property Registry.
* The breakdown of approximate useful surface areas and layout of the property are detailed in the corresponding plan.
Qualities



WASH-BASIN CABINET IN SECONDARY BATHROOM

ENERGY PERFORMANCE CERTIFICATE «A»




CAR CHARGING STATION PRE-INSTALLATION
Nature and services without leaving the city
Prados de la Fuente is in an exclusive location in Oviedo, in the northwest of the city, in an up-and-coming area in Prados de la Fuente. The development is specifically located between the calle Viseu, calle Santiago de Compostela and calle Ernesto Winter Blanco.
In this environment, El Monte del Naranco stands out, which was declared a world heritage site in 1985, a natural paradise for discovering beautiful corners and enjoying incredible panoramic views of the city. The outskirts boast pre-roman gems like Santa María del Naranco and San Miguel de Lillo. Moreover, the residential development is located a stone's throw from the Pista Finlandesa, a well-known natural trail and a unique recreational space where you can enjoy unique peaceful moments.
Prados de la Fuente is very close to the Colegio Loyola, one of the most renowned schools in the city and only a few minutes away from the city center, from the bus station and the AS-II motorway that connects Oviedo to Gijón.
This strategic location also counts with basic services and numerous community benefits (schools, health centres…), an ambitious future entertainment offer and the Enjoy Wellness Oviedo sports centre, currently under construction.
Prados de la Fuente is the perfect choice for a peaceful life whilst connecting with nature and without compromises.
Business hours
Attention in the sales office:
Monday to Friday from 10:00 am to 2:00 pm and from 4:00 pm to 8:00 pm.
Saturdays, Sundays and public holidays will be attended upon request.
C/ General Elorza, 62
33001 Oviedo

Send us your details and we will contact you
The infographics used in this online site are merely indicative and non-contractual images, and may be subject to modifications; the decoration, landscaping and furniture are not included in the goods subject to commercialization.
The Abbreviated Information Document, as well as any additional information, is available to any interested party at the Development's commercial office.
The information relating to the energy efficiency rating and, where applicable, the energy efficiency certificate is included in the Building Specifications and/or in the Downloads section of this website.